Million Dollar Habit
Regular price
Sale price
$19.00
Unit price
per
Sale
Sold out
Introducing the Inspire Planner for Notion: Level up your life and embrace the extraordinary! 
Unlock your true potential and live life on your terms with our all-in-one productivity hub. The
Inspire 
Planner is the ultimate companion for the modern-day go-getter, designed to simplify your life and help you conquer your goals.
Experience a seamless and efficient journey like never before. We've carefully curated the most essential features, so you can effortlessly navigate through your tasks and ideas without wasting time.
Stay on top of your game in every aspect of life with the
Inspire 
Planner for Notion - here's what's inside:
📊 Interactive Dashboard: Visualize your progress and track your achievements.
🔔 Notification Center: Stay in the know with important reminders and never miss a beat.
📅 Daily Tracking: Own your schedule and make every day count, while leaving room for self-care and pampering.
🧘‍♀️ Wellness: Prioritize self-love and find your inner balance with soothing activities and mindfulness exercises.
🍽️ Meal Planning: Nourish your body with delicious and healthy recipes, while adding a pinch of culinary creativity.
💪 Workout Planning: Sculpt your dream physique and unleash your strength with empowering exercise routines.
📆 Time-Management: Effortlessly plan your days, weeks, and months, ensuring you have time for all the fabulous things you do.
🎯 Goals: Set ambitious targets and watch as you slay them one by one, leaving a trail of glitter in your wake.
🛍️ Habit Builder with Interactive Shop: Cultivate empowering habits and reward yourself with fabulous treats along the way.
📚 Reading Tracker: Dive into captivating books, let your imagination soar, and track your literary adventures.
🎬 Movies and Shows: Discover new entertainment gems and curate your must-watch list for cozy nights in.
💡 Idea and Notes Repository: Capture inspiration, save your brilliant ideas, and let your creativity shine.
🎂 Birthday Tracker: Never forget to celebrate your loved ones' special moments and make them feel extra special.
🎉 Event & Holiday Tracker: Stay organized and ensure you never miss a party, celebration, or exciting holiday.
📓 Journal: Reflect on your journey, celebrate your accomplishments, and write down your dreams and aspirations.
🌅 Morning and Evening Routine Builder: Start and end each day with self-care rituals, glowing skincare, and positive affirmations.
✈ Travel Planner: Plan your dream getaways, create wanderlust-filled itineraries, and make memories that last a lifetime.
This template utilizes the Habit Loop, a proven neurological pattern of cue, routine, and reward, to help you build positive habits and transform your life into a fabulous adventure.
Seize the day, take charge of your destiny, and organize your life. From creating lists and capturing ideas to planning projects and scheduling tasks and goals, this is your ultimate tool for conquering the world with style and grace.
Share
View full details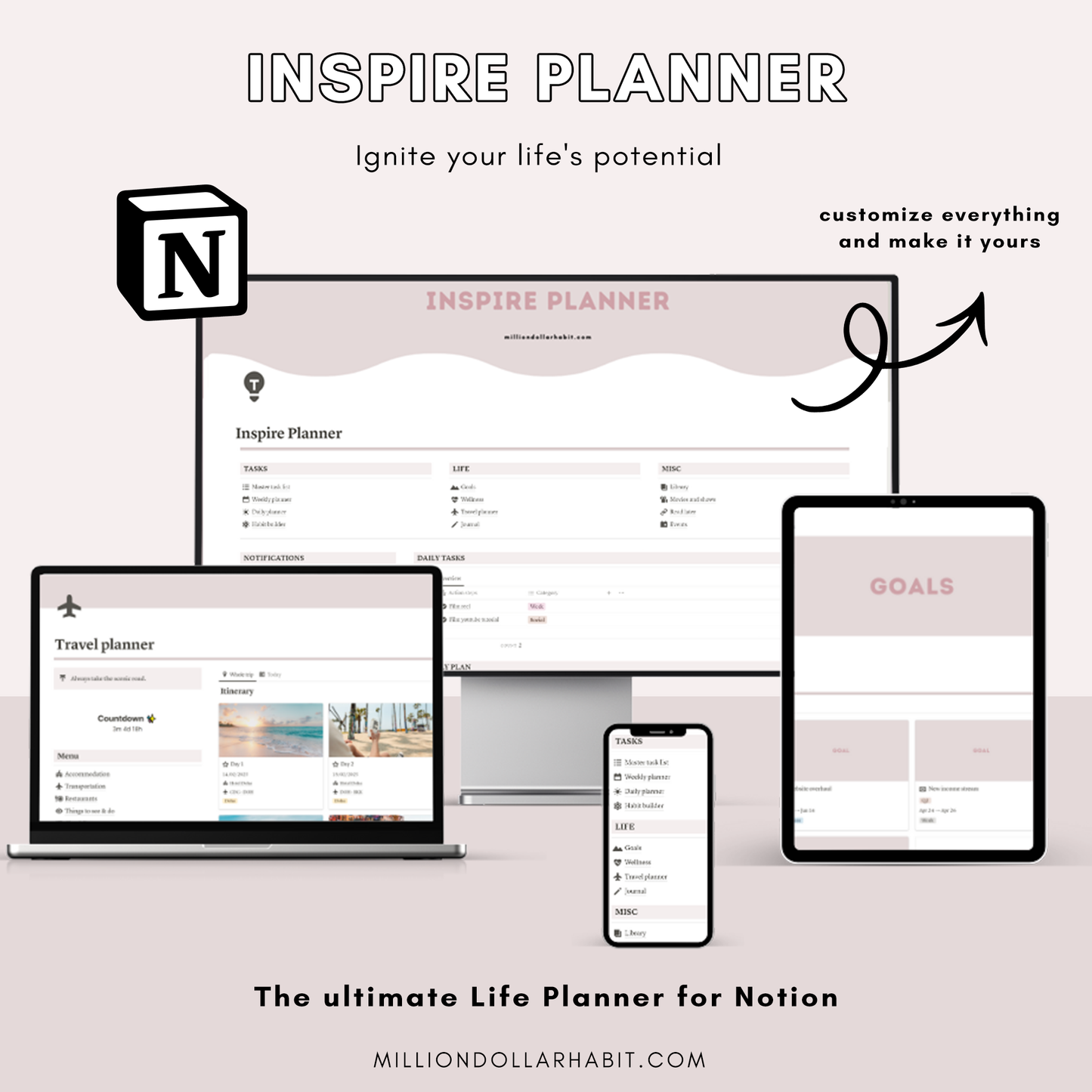 See what our customers are saying
Our planners have helped 10,000+ people organize their lives.
Frequently Asked Questions
When will I receive my order?

Your purchase will be delivered instantly to your email address.
What do I need to start using a digital planner?

To import and use the planner you will need a digital device and a note taking app like GoodNotes.
I need help with my order